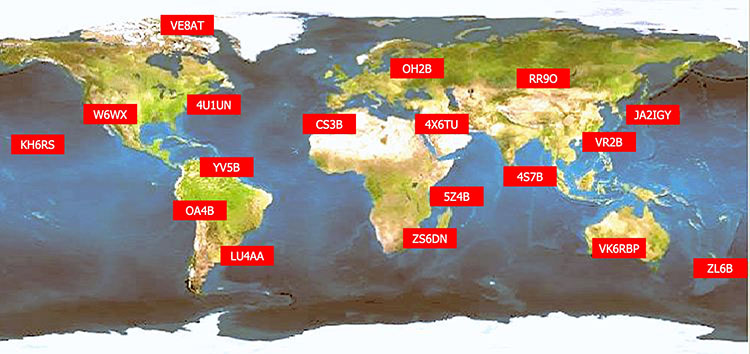 NCDXF/IARU International Beacon Project
Transmission Schedule
---
Each beacon transmits once on each band once every three minutes, 24 hours a day.
A transmission consists of the callsign of the beacon sent at 22 words per minute followed by four one-second dashes.
The callsign and the first dash are sent at 100 watts. The remaining dashes are sent at 10 watts, 1 watt and 100 milliwatts.
At the end of each 10 second transmission, the beacon steps to the next higher band and the next beacon in the sequence begins transmitting.
---
Which beacon am I hearing right now?
Tables update every 10 seconds.

Frequency
Beacon
Javascript Required
Beacon
Frequency
Javascript Required
---
Notes
1

The beacon is off the air temporarily. We expect it will be back soon.

2

VE8AT has been moved to Inuvik, NT, 1,845 km from the previous location at Eureka

3

The beacon seems to be transmitting but is very weak. We are trying to contact the operators.

4

Off due to hardware failure. The operators are working on the problem. Please be patient.

5

The beacon will be off from time to time due to frequent power cuts and heavy thunderstorms.

6

The beacon hasn't been heard for a while. We are contacting the operator. If you hear the beacon back on, please report it to us
---
Call to Action